My parents say thanks for Penny!
Posted on Thursday, July 9th, 2015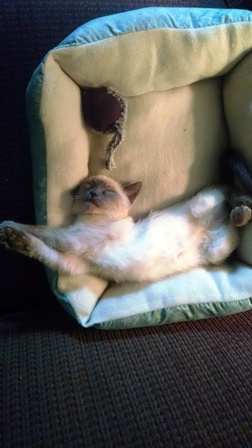 I would like to thank you again on behalf of my parents, Roland and Alta, for allowing them to adopt Penny!  She is such a happy little girl and is loving having the house to run and play and loves playing tag with us!  As you can see in picture, she is feeling quite at home and cat napping comfortably after helping me clean out a closet.  She is such a loving and personable kitten!!  I will recommend your facility to anyone in this vicinity who asks.  I found your shelter very clean and the cats and kittens appeared well cared for!
Thank you again,
Kirsten