Molly is happy in her new home!
Posted on Thursday, May 4th, 2017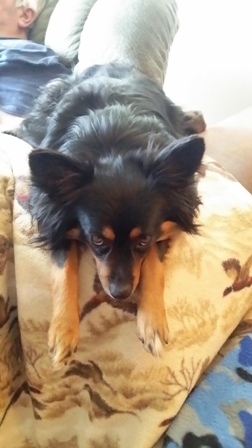 My husband and I adopted Molly, the Pom mix, on April 25th. She is a wonderful girl! Here's a photo of her chillin' next to her Daddy. We were very fortunate to find her! The vet clinic said she looked like a Pom/Spitz mix but even they weren't positive. All we know is that she is beautiful!By the way, our vet clinic was very impressed with the services you provided for her: not only vaccinations but flea/tick preventative, heartworm med, microchipping, etc. We were also impressed!

Thanks again!
Ginny and Rod