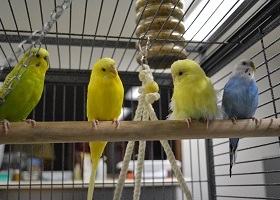 Parakeet Family
Species: Bird
Breed: Parakeets
Age: 3 years, 1 month
Sex: Females
Size: Normal
Color: Yellow, Green, Blue, White
Spayed/Neutered: No
Declawed: No
Housetrained: Sure, they are birds
Site: Heartland Humane Society
Location: Shelter
Intake Date: 11/22/17
Adoption Price: $50.00
Adopt

►
Take home this beautiful, entertaining crew today! Ruby (Yellow), Repeat (Green), Arizona (Blue), Oats (Yellow and White) came to HHS after their owner became ill. This quad is very entertaining to watch but they do not like to be held. They came with a very nice cage and promise from our staff to find them a wonderful home.
Please research parakeets before contacting us. The birds will come with their cage and any remaining food. Ruby is 2 years old, Repeat is 1 years old, Arizona is 3 years old and Oats is 2 years old.
Help us find a loving, long-term home for these babes.