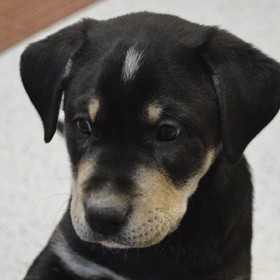 Robbie
Species: Dog
Breed: Lab Retriever Mix
Age: 3 months
Sex: Male
Size: Puppy
Color: Black, Brown, & White
Spayed/Neutered: No (Contract Will Be Required)
Declawed: N/A
Housetrained: Work in Progress
Site: Heartland Humane Society
Location: FIDO
Intake Date: 11/14/2017
Adoption Price: 150.00 + puppy deposit
Adopt

►
Robbie, his momma, and his two brothers were surrendered to Heartland when the puppies were only 9 days old!  They spent a few weeks in the shelter before being brought to a foster home to work on house training and so that they could be socialized. 
Robbie loves being with other dogs and people. He is learning good puppy behavior, like appropriate play and chewing and, of course, house training.
Robbie will be available for adoption in late March.