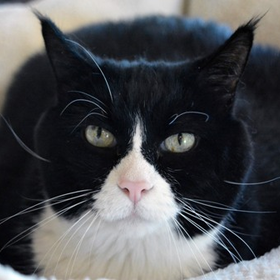 Topsy
Species: Cat
Breed: Domestic Short Hair
Age: 13 years, 2 months
Sex: Female
Size: Large (18.6 lbs)
Color: Black/White Tuxedo
Spayed/Neutered: YES
Declawed: YES (front)
Housetrained: YES
Site: Heartland Humane Society
Location: Shelter
Intake Date: 6/13/2017
Adoption Price: $15.00 IN SEPTEMBER!
Adopt

►
Topsy is a sweet senior girl that came to the shelter because her owner sadly went to a nursing home. She is low energy, and is front declawed so you won't have to worry about any furniture getting destroyed!!! She's not much for being held, and is pretty fearful of dogs and children. She grew up with her brother Tipsy though, and they get along great. In fact, they would probably prefer a home together! If you adopt them together, you only have to pay one adoption fee. Topsy is sadly very obese. Whoever adopts her will need to keep her on a specific diet with controlled feedings. Can you open up your heart and home to a loving cat like Topsy?
I am loved and sponsored by Gloria Becker. Thanks to her generosity I will get the care I need before getting adopted. If you are interested in sponsoring an animal, click HERE.