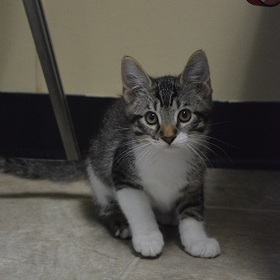 Marcus
Species: Cat
Breed: Domestic Short Hair
Age: 3 months
Sex: Male
Size: Small
Color: Brown/Black/White
Spayed/Neutered: NO (Deposit Required)
Declawed: NO
Housetrained: YES
Site: Heartland Humane Society
Location: Shelter
Intake Date: 7/13/2017
Adoption Price: $15.00 in September (+ Kitten Deposit)!
Adopt

►
Meet Marcus! He is an adorable kitten that came to the shelter with his 3 siblings! He was too young to keep at the shelter right away, so he had to be fostered out. He stayed in a foster home until she was able to come to the shelter. He is very timid and shy, and whoever adopts him will need to work with him on trusting. He is very good with other cats, but is still very fearful of people. He will warm up and become quite the cuddle bug once he knows you though. Come meet Marcus and take this wonderful little sweetheart home! Also, adopt Marcus with another kitten and you qualify for the AOGO Adoption Special. Click HERE for details.