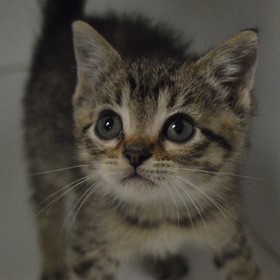 Jasmine
Species: Cat
Breed: DSH
Age: 3 months
Sex: Female
Size: Kitten
Color: Brown/Black Tabby
Spayed/Neutered: NO (Deposit Required)
Declawed: NO
Housetrained: YES
Site: Heartland Humane Society
Location: Shelter
Intake Date: 5/10/18
Adoption Price: $30 + spay deposit
Adopt

►
I was brought to HHS after some nice guys found my momma, siblings and me in a barn. They took really good care of us and then brought us to the shelter so we could find loving homes. I would love to go home with you.
Remember, kittens require a lot of socialization to ensure we will behave well as adults. I will need a few veterinarian appointments to keep me healthy and get me fixed before I'm 7 months old. I will love to explore with my little paws and mouth and toys will be so much fun in your home.
Come meet me please! If you adopt me and one of my siblings, you only pay one adoption price!