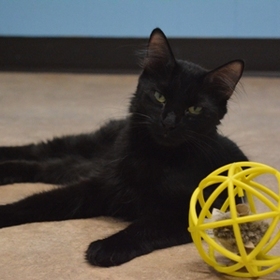 Ivory
Species: Cat
Breed: Domestic Medium Hair
Age: 1 year, 7 months
Sex: Female
Size: Medium
Color: Black
Spayed/Neutered: YES
Declawed: NO
Housetrained: YES
Site: Heartland Humane Society
Location: Shelter
Intake Date: 6/30/2017
Adoption Price: $30.00 IN SEPTEMBER!
Adopt

►
Ivory is a beautiful, sassy black haired beauty that came to the shelter because her owner could no longer care for her. She is a diva and she knows that she is a beautiful girl. She is pretty playful for other cats, and has been known to swat at dogs. She can't help it - she's fabulous and just needs others to understand! She is a loyal cat who likes her people and that's it. She isn't a fan of everyone, and you will know whether or not she likes you right away. She loves to lay in the window sill, is very curious and likes to zoom outside on occasion. Come meet this classy lady and take her home!
I am loved and sponsored by Jamie Backhaus! With this support, I will get the care I need while at the shelter! To learn how to sponsor a pet, click HERE.