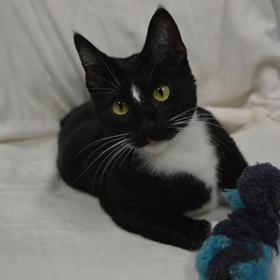 Iris
Species: Cat
Breed: Domestic Short Hair
Age: 3 years, 6 months
Sex: Female
Size: Medium
Color: Tuxedo
Spayed/Neutered: YES
Declawed: NO
Housetrained: YES
Site: Heartland Humane Society
Location: FOSTER HOME
Intake Date: 4/5/2017
Adoption Price: $30.00 IN SEPTEMBER!
Adopt

►
Iris is a beautiful cat that came to shelter pregnant. She had a litter of kittens and they finally got weaned. She is a wonderful cat with a gentle disposition. She loves to be held, is good with other cats and is great with children. We haven't tested her with dogs yet, but she would probably be okay. She has beautiful markings and it looks like she has a diamond on forehead. She would adapt to any home, and would make a great companion. If you are interested in taking Iris home, please call us to set up an appointment!
I am loved and sponsored by Jamie Backhaus! With this support, I will get the care I need while at the shelter! To learn how to sponsor a pet, click HERE.