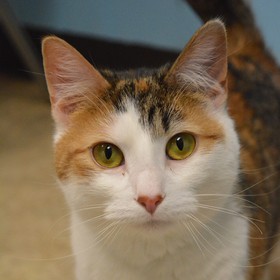 Hailey
Species: Cat
Breed: Domestic Short Hair
Age: 1 year, 11 months
Sex: Female
Size: Medium
Color: White/Brown/Black/Orange
Spayed/Neutered: Yes
Declawed: No
Housetrained: Yes
Site: Heartland Humane Society
Location: Shelter
Intake Date: 1/18/2018
Adoption Price: 65.00
Adopt

►
Little Hailey is a curious little girl who wants to get to know you!  When brought into a new space she first needs to take her time to investigate every corner and smell all the smells, and then she will love your gentle strokes and attention! 
Hailey was rescued as a inured kitten and nursed back to health by a loving retired vet. She has likely used many of her nine-lives in her young accident but you'd never tell. She still runs and flys around a room and will provide you hours of entertainment.
Hailey does not like other cats much, but has been around dogs and kids who she doesn't seem to mind.  She's at a perfect age where she is still very playful, but also knows when it's time to just relax and cuddle!
She is loved and sponsored by Susan Wolfe. Thanks to her generosity, Hailey will get the care she needs before getting adopted. If you are interested in sponsoring an animal, click HERE.