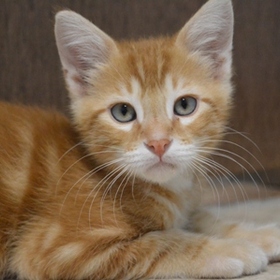 Amari
Species: Cat
Breed: Domestic Short Hair
Age: 4 months
Sex: Male
Size: Small
Color: Orange Tabby
Spayed/Neutered: No - Contract will be required
Declawed: No
Housetrained: Yes
Site: Heartland Humane Society
Location: Shelter
Intake Date: 06/11/2017
Adoption Price: $30.00 (+ Kitten Deposit)
Adopt

►
Amari and his siblings were born in care at Heartland just days after HHS amputated their mother's leg from a severe injury. Staff new mom was pregnant when we opted to do surgery but even the vet was surprised to hear about the arrival of babies just two days later!
All four kittens thrived and momma was wonderful! Since birth they have been both at the shelter and in an awesome foster home. Now, they are back at the shelter and ready to be adopted.
Amari is shy and looking for a great home to call his home. Please consider this sweet boy.
I am loved and sponsored by Jill Larson! With this support, I will get the care I need while at the shelter! To learn how to sponsor a pet, click HERE.